Explore our unique manufacturing facility
Exeed Electronics complex is a first of its kind Home Appliances manufacturing complex in the MENA Region.
The complex includes factories specializing in manufacturing Washing Machines, Refrigerators, Air Conditioners, Gas Cookers/Stoves, and Household Plastic Products.
Factory Specifications
The best manufacturing technology in the region
Our facilities can produce 1.2 – 1.4 million units a year, a mixture of various homes appliances
32 plastic injection machines – capacity of 170 – 1,300 tones
Power press (hydraulic and mechanical) metal fabrication machines – capacity from 160 to 400 ton which can produce any kind of metal parts
Powder coating line with all treatment processes, drying oven, and robotic powder spray station
7 assembly lines of ACs, refrigerators, gas cookers, microwaves, vacuum cleaners, and other home appliances
A R&D department with product development engineers able to support in the product design process
In-house warehousing & logistics facility
In-house testing facilities for various home appliances functions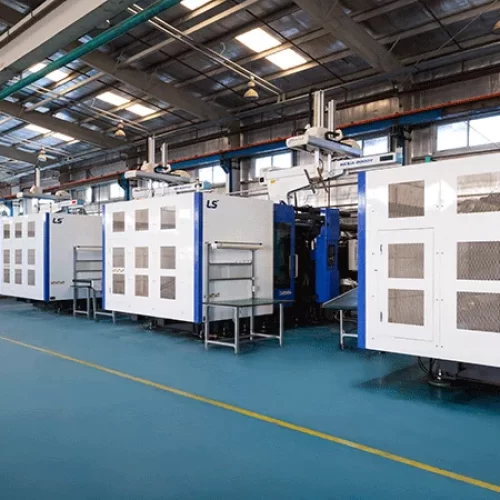 In-House Testing Facility
At Exeed Electronics, quality is at the forefront of our operations; all factories are equipped with quality control testing facilities to ensure all products are tested at every stage of production.
Exeed Electronics testing facilities are equipped to test and ensure production processes and outputs strictly adhere to quality guarantees and standards set for various specified markets.
Our testing equipment can service our own production outputs, as well as third party manufacturers. Exeed Electronics is ISO 9001:2015 certified.
In-House Tests Available:
Our testing equipment covers all aspects of various home appliances' functions to ensure all products leaving the facilities have no manufacturing faults.
Leak Test
Safety Test
Vacuum Testing
Function Test
Performance Testing
Quality Testing Lab:
Calorimeter
Sound Level Room
Fan Balancer
Drop Pressure Test
Burst Test
Safety Test
Performance Testing
Function Test
Quality Testing Lab
Vacuum Testing
Leak Test
Safety Test
Performance Testing
Door Open/Close Test
Baking & Moisture Test
Drop Test
Quality Testing Lab
Leak Test
Power Test
Electrical Safety Test
Flame Burner Test
Warehousing and Logistics
Exeed Electronics warehousing area is approximately 21,000 m², with safe storage standards applied across all areas.
Exeed Electronics also has a dedicated large containers' handling area, to manage big shipments in-house easily.
Exeed Electronics warehouse complex consists of four main warehouses, split into the below areas:

Raw Materials Warehouse
Finished Products Warehouse
Spare Parts Warehouse
Plastic & Metal Warehouse

Safe Storage standards are applied to ensure all raw materials, finished products, and spare parts, are safely managed and stored.
A dedicated team of warehousing and logistics experts can support clients in their exporting and finished product management needs.